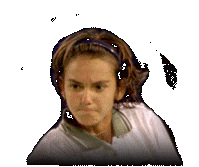 Who is she?
Dominique has been on the WTA tour for almost 8 years now. She first burst on the scene in the Australlian Open in 1997 by playing some outstanding tennis. She has been ever improving since, and has skyrocketed up the rankings. This page aims to bring you everything there is to know about her and more past and present.
Quick BIOGRAPHY
| | |
| --- | --- |
| Name: | Dominique Van Roost |
| Bithdate: | May 31, 1973 |
| Birthplace: | Verviers, Belgium |
| Turned-Pro: | June-1991 |
Try THIS SILLY GAME I've made.
---
Links to other Dominique page:
Dominique Van Roost Fan Page- The only up-to-date Dominique page
Dominique Van Roost Homepage- Probably the first Dominique page on the web
Tennis Corner- A well updated TENNIS page
Corny's Sportswomen images page- Lots of pics of WTA players
Photos of Ladies Tennis Player-Another page with loads of WTA players pics.

Mail me for comments and etc.
---
This site is an unofficial Dominique Van Roost site and has no connection whatsoever toDominique Van Roost or any other players or association mentioned in the pages.

This web-site is an independent project and is in no way affiliated with or related to Dominique Van Roost. All logos, brand or player's names are trademarks or
registered trademarks of their respective owners.

This web-site is provided for entertainment purposes only. Although reasonable care is taken to avoid inaccuracies, the author is not responsible for the validity or
accuracy of information retained within this document. Use of this information is done at the user's sole risk. The author is not responsible for any loss or damages
arising from the use of this document.